GITZO Stativkit Mountaineer GK3532-82QD Ser.3 Kolfiber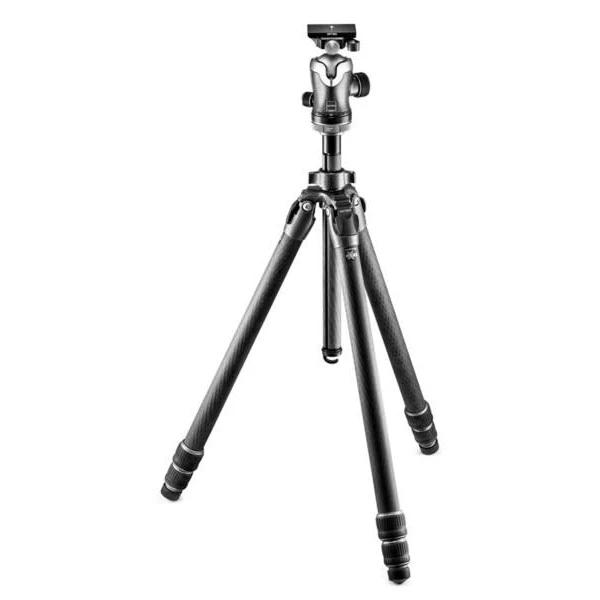 GITZO Stativkit Mountaineer GK3532-82QD Ser.3 Kolfiber
All Offers in Europe
GITZO Stativkit Mountaineer GK3532-82QD Ser.3 Kolfiber
SEK 16,056
Incl. shipping fees
GITZO Stativkit Mountaineer GK3532-82QD Ser.3 Kolfiber
SEK 16,056
Incl. shipping & customs
Shipping fees are subject to change for bulky items.
Product Details
GK3532-82QD är ett kolfiberstativ/huvud kit innefattande ett GT3532 Mountaineer stativ och en GH3382QD Center-kulled.
Gitzo GT3532 är ett standardhögt, 3-sektions, Serie 3 kolfiberstativ som säkert stöder en professionell kamera med 300mm objektiv (upp till 400mm) och är mycket lättburet. Stativet har Carbon eXact rör med större bendiameter. Dess övre bendiameter är 32,9 mm och high modulus-kolfiber i de nedre bendelarna gör detta stativ styvare och starkare än sina föregångare. Det här stativet är det perfekta valet för professionella fotografer som vill ha motståndskraftiga, pålitliga stativ som är lätta nog att bära i timmar under fototurer ute i naturen.
Gitzo GH3382QD Serie 3 Center-kulled är den större professionella kulleden i serien. GH3382QD har en större kula och snabbkopplingsadapter jämfört med mindre versioner. Det garanterar stark, bekväm användning med tyngre utrustning. Den är rik på funktioner, bland annat ett friktionsvred inuti kulans låsratt för exakt justering. Den har ett 360° oberoende panoreringslås och ett kulrörelsekontroll-lås. Det ger kompromisslös jämnhet i kulan, och kulleden är tillverkad av högkvalitets, motståndskraftiga aluminiumkomponenter. Den medlevererade snabbkopplingsplattan hålls låst med en skruv-ratt och ett vattenpass hjälper fotografer att hålla en rak horisont.
FAQs
What are the available payment options?
We accept most common credit cards and offer all Klarna and Stripe payment options, such as "pay in 14 days with an invoice" or "pay in installments".
When will I receive my product?
The normal shipping takes between 5-15 business days depending on where the seller is located. In rare cases, shipping may take longer. Please note that due to the current situation regarding Covid-19 some shipping companies are working with reduced capacities and shipping might take longer than expected.
Is the VAT deductible from the final price?
No, unfortunately the VAT cannot be deducted from the listed price.
What is the warranty policy?
The warranty policy depends on the seller and the specific product. It can range from 6 months up to 2 years. Please contact Panprices customer support, or check with the original seller for the applicable warranty policies for the product you are interested in.
What if I'm not happy with my purchase?
We offer a 14 day money-back-guarantee if you're not satisfied with your product. Once you receive your product, please make sure that the box and product are in a new condition and contact us in case of an issue. Make sure to include all original items, such as the manual and box, when returning a product and always consult with the original seller to find out the condition of the product in order to qualify for a full refund. For refunds requests and other questions, please reach out to us via live chat, email us at support@panprices.com, or call +46 72-848 63 54.
How can I contact Panprices customer support?
Our customer support team will be happy to assist you with any questions. Please reach out to us via live chat, email us at support@panprices.com, or call +46 72-848 63 54. We currently offer assistance in Swedish, English, and German.