Godox AD200Pro TTL Pocket Flash Kit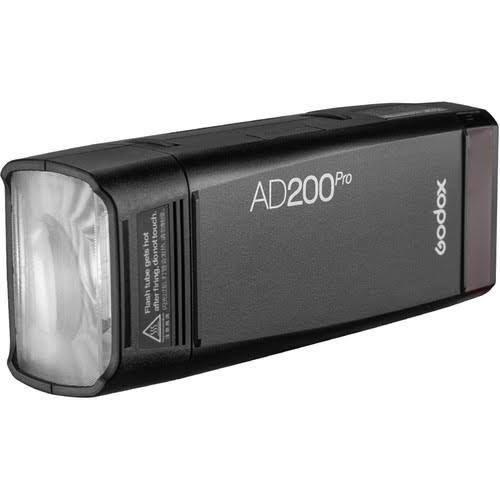 Godox AD200Pro TTL Pocket Flash Kit
All Offers in Europe
Godox AD200Pro TTL Pocket Flash Kit
SEK 3,067
Incl. shipping fees
Godox AD200Pro TTL Pocket Flash Kit
SEK 3,067
Incl. shipping & customs
Shipping fees are subject to change for bulky items.
Product Details
Godox AD200Pro TTL Pocket Flash Kit med Sony Trigger är för fotografer som vill ha ett lättviktigt system med flexibla konfigurationsalternativ som stöds av trådlös TTL-frihet. Satsen innehåller en AD200Pro Pocket Flash både en blixtsnabb och ett glödlampahuvud. Den medföljande trådlösa utlösaren för Sony möjliggör kontroll av blixten från avstånd upp till 328'. AD200Pro har dedikerat stabilt färgtemperaturläge, vilket förbättrar färgkonsistensen till +/- 100K i hela effektområdet. Utökat effektområde med nio stopp, från 1/256 till 1/1, med steg om 1/10 stop. Snabbare återvinningstid med full effekt på 1,8 sek. Inkludering av en USB Type-C-port för uppdatering av blixtens firmware. Uppgraderad metallblixthållare / paraplyfäste för säkrare och stabil fastsättning på ljusstativ. Förbättrad kontrollpanel med infälld design, ytterligare navigeringsknappar och en reviderad på / av-brytare.
Specifikationer: 
1 x blixt, 1 x blixtljushuvud

1 x litiumbatteri, 1 x laddare

1 x TTL Trigger för Sony

Trådlös Trigger TTL-räckvidd: 328 '

32 kanaler, 5 grupper

TTL, manuell och stroboskopisk läge

Blixt exponeringskompensation

Firmware USB-uppdateringar, 1 x bärväska
FAQs
What are the available payment options?
We accept most common credit cards and offer all Klarna and Stripe payment options, such as "pay in 14 days with an invoice" or "pay in installments".
When will I receive my product?
The normal shipping takes between 5-15 business days depending on where the seller is located. In rare cases, shipping may take longer. Please note that due to the current situation regarding Covid-19 some shipping companies are working with reduced capacities and shipping might take longer than expected.
Is the VAT deductible from the final price?
No, unfortunately the VAT cannot be deducted from the listed price.
What is the warranty policy?
The warranty policy depends on the seller and the specific product. It can range from 6 months up to 2 years. Please contact Panprices customer support, or check with the original seller for the applicable warranty policies for the product you are interested in.
What if I'm not happy with my purchase?
We offer a 14 day money-back-guarantee if you're not satisfied with your product. Once you receive your product, please make sure that the box and product are in a new condition and contact us in case of an issue. Make sure to include all original items, such as the manual and box, when returning a product and always consult with the original seller to find out the condition of the product in order to qualify for a full refund. For refunds requests and other questions, please reach out to us via live chat, email us at support@panprices.com, or call +46 72-848 63 54.
How can I contact Panprices customer support?
Our customer support team will be happy to assist you with any questions. Please reach out to us via live chat, email us at support@panprices.com, or call +46 72-848 63 54. We currently offer assistance in Swedish, English, and German.