Canon EF 70-200mm f/2.8L IS III USM Lens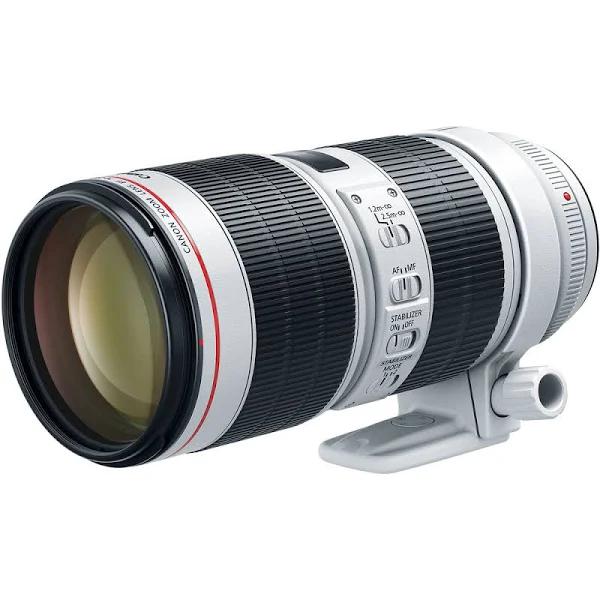 Canon EF 70-200mm f/2.8L IS III USM Lens
All Offers in Europe
Canon EF 70-200mm f/2.8L IS III USM Lens
SEK 17,325
Incl. shipping fees
Canon EF 70-200mm f/2.8L IS III USM Lens
SEK 17,325
Incl. shipping & customs
Shipping fees are subject to change for bulky items.
Product Details
En modern klassiker: det här ljusstarka zoomobjektivet är en favorit hos fotografer inom i stort sett varje område. Nu fungerar det ännu bättre i starkt ljus och är utformat för att klara de mest krävande förhållandena. Objektivets största bländaröppning på f/2.8 gör det enkelt att framhäva knivskarpa motiv mot en jämn och oskarp bakgrund. Med en bildstabilisator som kompenserar för 3,5 steg får du skarpare bilder. Objektiv med bländare f/2.8 släpper igenom dubbelt så mycket ljus som ett objektiv med bländare f/4. Fluorit- och UD-glas ger hög kontrast och utmärkt upplösning. Förbättrade linsbeläggningar motverkar reflexer och ljusslöjor.
FAQs
What are the available payment options?
We accept most common credit cards and offer all Klarna and Stripe payment options, such as "pay in 14 days with an invoice" or "pay in installments".
When will I receive my product?
The normal shipping takes between 5-15 business days depending on where the seller is located. In rare cases, shipping may take longer. Please note that due to the current situation regarding Covid-19 some shipping companies are working with reduced capacities and shipping might take longer than expected.
Is the VAT deductible from the final price?
No, unfortunately the VAT cannot be deducted from the listed price.
What is the warranty policy?
The warranty policy depends on the seller and the specific product. It can range from 6 months up to 2 years. Please contact Panprices customer support, or check with the original seller for the applicable warranty policies for the product you are interested in.
What if I'm not happy with my purchase?
We offer a 14 day money-back-guarantee if you're not satisfied with your product. Once you receive your product, please make sure that the box and product are in a new condition and contact us in case of an issue. Make sure to include all original items, such as the manual and box, when returning a product and always consult with the original seller to find out the condition of the product in order to qualify for a full refund. For refunds requests and other questions, please reach out to us via live chat, email us at support@panprices.com, or call +46 72 848 6354.
How can I contact Panprices customer support?
Our customer support team will be happy to assist you with any questions. Please reach out to us via live chat, email us at support@panprices.com, or call +46 72 848 6354. We currently offer assistance in Swedish, English, and German.